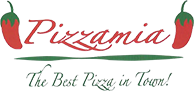 Pepperoni, Chorizo, Mushrooms, Jalapenos, Artichokes, Salami, Canadian Bacon, Black Olives, Bell Peppers, Sausages, Onions, Tomatoes and Pineapples
Trying to bring the family around the dinner table? It's easy when you have delicious pizzas, a wide range of toppings, piping hot chicken wings, soft cheesy bread, combo calzones and drinks. It's the best place for your family to get together.
Buy a large 16", X-large 18" or giant 24" pizza. Get a small pepperoni FREE! Valid for all pick-up orders. Walk in now
We satisfy the pickiest of eaters with our large menu selection. Dine out any day from from 8.00 am to 8.30 pm.
$11.95 / $18.98 / $22.95 / $27.95 / $39.95
Sausage, Bell Peppers, Onion, Mushroom, Black Olives, Pepperoni
Onion, Tomatoes, Artichokes, Bell Peppers, Black Olives, Mushrooms
Sausage, Pepperoni, Salami, Ham
Chorizo, Onion, Pepperoni, Sausage, Bell Peppers, Jalapenos
$10.90 / $14.90 / $19.56 / $24.78 / $33.96
1. $8.95 / $12.75 / $17.99 / $22.75 / $31.95
2. $10.90 / $14.90 / $19.58 / $24.78 / $33.96
3. $11.98 / $16.84 / $21.60 / $26.20 / $35.97
6. $ 14.77 / $ 22.96 / $ 27.10 / $ 32.52 / $41.96
4. $12.99 / $18.93 / $23.68 / $28.68 / $37.98
5. $13.85 / $20.75 / $25.10 / $30.77 / $39.99