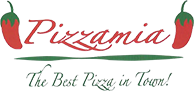 Serving Watsonville and surrounding areas for 20 years
Pizzamia, a family owned business, has been serving delicious pizzas, calzones, cheesy bread and chicken wings since 1996. Ramon Zamora and his wife Teresa operate the business with the help of their children Araceli, Jovita, Jessica, Juan and Raymond.
The proud owners have traditionally allowed only their family members to work here.
When an outsider asks Ramon for a job, his answer is always, "Unless you are married to one of my daughters, I'm sorry, no!"
Pizzamia prides itself in its exceptional service, excellent food, and unmatched prices.
Call us now for booking. Our professional staff will answer any questions you may have about our menu. We deliver to Watsonville and surrounding areas.