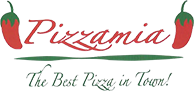 Check out our chicken wings - not too spicy, but you'll love the flavor! Eat these delectable wings with our special cheesy bread. Call us immediately
Want to try something different? Grab one of our calzone combos. Our huge calzones are stuffed with your favorite ingredients. Enjoy these filling treats!
MORE ON CHECKEN WINGS
EXPLORE OUR CALZONES

Get a small pepperoni pizza
FREE
Tastiest handmade pizzas in town
!
Our pizzas will make you keep coming back for more. Pick your choice of toppings, from jalapenos to artichokes. The calzones we serve are the best in Watsonville. Also, don't miss our chicken wings and cheesy bread.
Order any day from
8:00 AM to 8:30 PM
Buy large, Xlarge, giant pizzas